2016 Dodge Ram Laramie Limited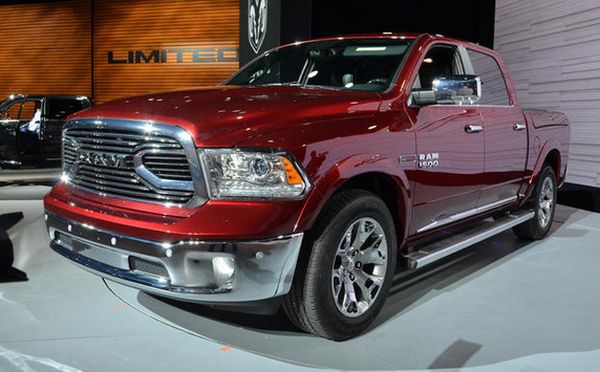 Here's the last truck, named 2016 Dodge Ram Laramie Limited. Ram pickup trucks are up for a premature revision for the next model year. Even though the Ram 1500 had only recently changed generations, people down at Dodge's former division are saying that this is the part of their new marketing strategy.
We can't shake the feeling though, that this has something to do with the new aluminum F-150 pickups. In any case, early mid-term facelift is not the only thing that new Rams are getting. 2016 Dodge Ram Laramie Limited is supposed to take over the top spot in full-size truck's lineup as a true luxury pickup.
Under the Hood
Only the strongest engines will make it into Laramie Limited's limited lineup. There's the ever-standard 5.7L HEMI V-8 powerplant which manages to produce 395 hp and 410 lb-ft of torque. Of course, such a refined truck has to offer an alternative, and what's better than the EcoDiesel mill which does a terrific job in other Ram 1500 installments? 3.0L turbo diesel V-6 is capable enough to put up 240 hp and 420 lb-ft of torque which is ultimately similar output as the one seen in HEMI, but diesel is way more efficient at the same time. Both engines can be tied to both rear and all-wheel drive configurations, and they both come with the same ZF 8-speed automatic transmission.
Design – Inside and Outside look
In accordance to the new design strategy, 2016 Dodge Ram Laramie Limited looks slightly different than current, soon to be outgoing models. Cross grille seems to be the thing of the past too, which might sadden some die-hard Ram fans. Still, 2016 Ram Laramie Limited won't lack any chrome that it had featured with the cross grille. Frontal fascia is still rich with the precious alloy, and so are both front and rear bumpers. 20-inch aluminum/chrome wheels are another spot where half-ton pickup shines bright, and so are side mirrors, side skirts and door handles. Like a true luxury pickup, it offers only a crew cab option, but bed length can be chosen.
There are couple options here: shorter 5.7-feet box, and longer 6.4-feet one. In any case, Laramie Limited grade differs compared to the current lineup, and these differences will soon start to migrate to other versions of Ram's 1500.
Interior
Interior is on par with truck's exterior. That said, 2016 Dodge Ram Laramie Limited offers full leather seats and covers throughout the cabin. Whole cabin is painted black for trim level's initial year and only things that break the cycle are metallic accents. In this grade, Ram 1500 is fitted with all available pieces of equipment which one might find in features spreadsheet. 8.4-inch touch screen display, navigation, heated front and rear seats and all available connectivity equipment are all standard from the get-go.
Safety
Safety features don't fall behind either. 2016 Dodge Ram Laramie Limited offers all mandatory gear including anti-lock brakes, stability control and an airbag system, but also adds a rearview camera and large, folding side mirrors which make blind-spot monitors obsolete. Still, Ford's competitor F-150 offers much more in terms of advanced safety.
2016 Dodge Ram Laramie Limited Price
Standard gasoline engine returns 15/22 mpg with rear, and 15/21 mpg with all-wheel drive. As a contrast, turbo diesel option is much more efficient, and rates at either 21/29 mpg with rear, and at 20/28 mpg with all-wheel drive. Prices will start from $50,880, but optional all-wheel drive takes around $3,500, while diesel engine takes another $3,000 or more.
2016 Dodge Ram Laramie Limited is here to fight the upcoming Ford F-150 Limited which exhibits extreme level of luxuriousness for a pickup truck. It will be more affordable than its blue oval competitor, but it also seems a little bit less refined. However, if fuel efficiency is your primary concern, there's still no better choice in half-ton truck market than Ram 1500.