2016 Kia Rio Sedan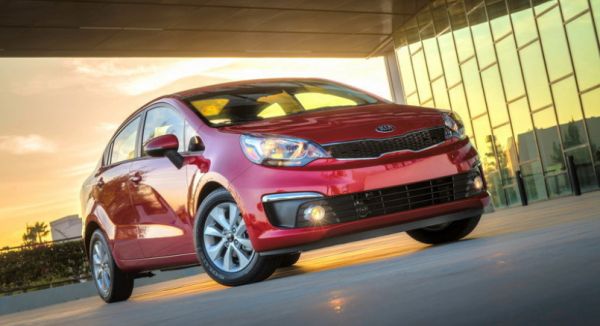 2016 Kia Rio was presented during the early Chicago Auto Show which is somewhat peculiar. However, it ended up largely unnoticed and remained on the back shelves for a few months straight. In the end, Rio is only slightly changed car with some tech shifts and mild aesthetic reworks.
Under the Hood
As for the engine; there's nothing new here. As it is the case with pretty much any Kia, U.S. market models get the strongest available powertrain. While overseas iterations move on 1.2L and 1.4L units, American Rio gets 1.6L 4-cylinder engine which puts up 138 hp and 123 lb-ft of torque. A fine thing is optional 6-speed manual stick in entry-level models, while standard gearbox across the range remains a 6-speed automatic.
2016 Kia Rio

| The Engine Range | |
| --- | --- |
| Displacement (cc) | 1.591 cc |
| Bore x stroke (mm) | 77 x 85.44 |
| Compression ratio | 11.0:1 |
| Horsepower | 138 HP @ 6.300 RPM |
| Injection system | Natually Aspirated |
| Fuel System | Direct Fuel Injection |
Design – Inside and Outside look
2016 Kia Rio is generally the same car that it was before, but a keen eye will notice the differences. For starters, lower air intake has been changed and now features more upright look. Grille has also been resized, but differences are even less obvious here. Rest of the frontal fascia has remained the same, and nothing is different in car's profile as well. Rear end offers only a slight bumper revision. All of the mentioned changes are for Rio sedans. Hatchback, which is also available, follows the same pattern, and while some of its cues don't look exactly like those of sedan's, changes are the exact replicas. That way, both sedan and hatchback continue with their own, new details.
Interior
Interior has remained mostly intact in terms of cabin arrangements and available materials. Depending on chosen trim level (LX, EX, SX), seat upholstery is either made of cloth, premium cloth or leather respectively. Dashboard is made of hard plastics in entry-level models, while other grades get slightly softer versions. 7-inch touch screen display is only offered in top SX grade, and it comes with navigation, HD radio and voice controls. The difference is that mid-grade EX models get optional UVO eServices infotainment system with a rearview camera this year. However, this is only an optional feature.
For a compact car, 2016 Kia Rio is solidly fitted with features, and proof of that statement are standard Bluetooth wireless technology, air conditioning and an USB port. There are also a push-button start, sunroof and front seat heaters in top models. Apart from optional rearview camera, however, Rio doesn't offer any advanced safety systems.
2016 Kia Rio Price and MPG
Fuel economy ratings are a category where Rio has plenty to offer. Being a compact, it doesn't come as a surprise. Every single model, regardless of body style or transmission is rated at 27 mpg in the city and 37 mpg on the highway. Optional Eco package with idle stop and go technology only manages to raise commuting figures by a point and is hardly worth the money. Speaking of which, base models start from affordable $14,165, while hatch starts from $15,495. On the other hand, top SX grades reach almost $21,000 mark for both versions.
2016 Kia Rio is a fine little commuter which doesn't stand out in any given category, but still offers just enough for comfortable and stable ride. It does suffer from the lack of cabin space, but that's something to be expected from a compact.
The biggest competitors are Ford Fiesta Sedan and Chevrolet Sonic Sedan.