2016 Yellow Hennessey VelociRaptor – Detroit AS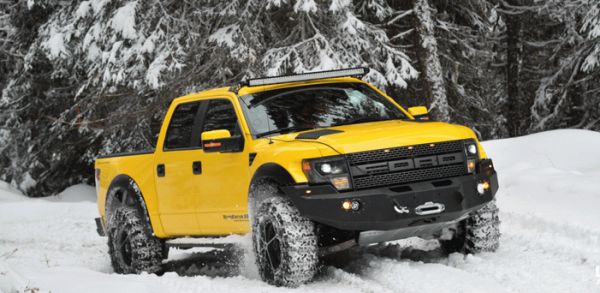 The new, 2016 Yellow Hennessey VelociRaptor is ready for the upcoming Detroit Auto Show, in January. The original Ford Raptor has been called numerous times the best high performance truck money can buy and while it had its shortcomings, it always was a great seller. Unfortunately though, Ford discontinued the truck because it was based on an old design and they are looking to release a new model starting with 2017.
Until then people will have to buy another truck or wait for it but this changed a few weeks ago when Hennessey said in a statement that they are not receiving orders for the 2016 Yellow Hennessey VelociRaptor. While the name suggests that it would be a high performance version of the Raptor, the truck doesn't have anything in common with it.
This is because Hennessey is now offering the model as a standalone truck which can be bought by anyone for roughly $73,000, a rather large amount of money for a truck but still well worth it considering what it can do.
The major changes
The VelociRaptor is actually based on the all new aluminum bodied FX4 F150, so it is lighter than the old Raptor, it is roomier inside the cabin and more efficient as well. In order to deserve the Raptor name, the truck received a lot of upgrades, both inside and out, all of them meant to make its driver more comfortable and allow the truck to get through and over anything.
You might also like:
2016 Chevy Silverado Special Ops
2017 Honda Odyssey
Upgraded Performance & Engine
Because it is based on the new F150, the 2016 Yellow Hennessey VelociRaptor is using an F150 engine rather than the old 6.2 liter V8. The truck doesn't get the great EcoBoost either which has been criticized by some people but we think that it comes with the right engine for what it is meant to do. The VelociRaptor is using the usual 5.0 liter V8 of the base truck which received a new tune, a supercharger and intercooler system as well as new exhaust and fuel systems.
The end result is that it now makes a rather impressive 600 horsepower and over 550 lb-ft of torque on pump gas which is not only more than the Raptor, it is more than any other current production truck.
2016 Yellow Hennessey VelociRaptor

| Performance | |
| --- | --- |
| Power | 600 bhp @ 5.700 rpm |
| 0-60 mph | 5.2 seconds |
| 1/4 mile | 13.6 @ 103 mph |
| Top Speed | 110 mph (tire rating limited) |
Because it is based on the FX4 truck, it comes as standard with a four wheel drive system and a 6 speed automatic. Hennessey also installed a locker in the rear of the truck which should help quite a bit during off-road use while in the front it received a large winch as well as new beefier half-axle shafts and an all new suspension system which should be able to take at leas the same amount of abuse as the one of the original Raptor.
Design – Inside and Outside look
The exterior of the truck has not been left untouched either so while it is based on the regular F150, it looks nothing like it. The front end is new and it has been styled after the original with some cues taken from the larger F250 while in the back it received new tail-lights. The front and rear bumpers are all new off-road steel units capable of being more durable than before while on the sides the truck has been fitted with wider wheel arches for extra protection.
The wheels are all new 17 inch rims by Hennessey wrapped in high performance 33 inch tires. Options include a front LED light-bar as well as larger Brembo brakes.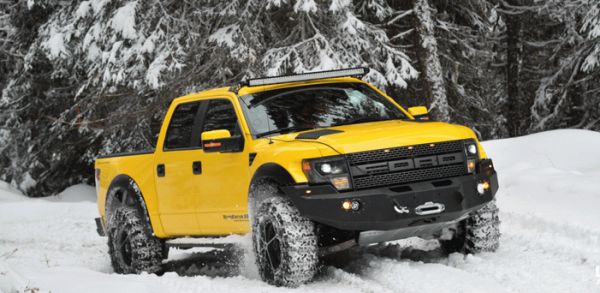 Inside view
The interior of the 2016 Yellow Hennessey VelociRaptor has been left pretty much stock and there are only a few minor differences between it and the F150. Firstly, it now has a new steering wheel with the usual middle red stripe which should help during spirited driving. Also, buyer will get to choose an all new upholstery for the interior.
2016 Yellow Hennessey VelociRaptor Release date
According to Hennessey, selling of this truck should start in March, 2016 year. As you may to see above, price starts at $73,600. Also, the company prepares to launch an additional edition with new package, based on EcoBoost F-150.